Sign in
Complete Title:
Foro Agua Santa 2011 : construyendo una visión y acción compartidas : memoria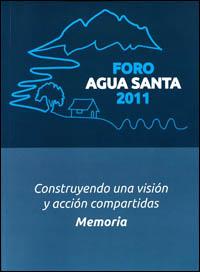 Abstract:
Sobre la cuenca del río Santa se han realizado numerosos foros y se han emitido diversas declaraciones,1 orientados a promover el mejoramiento de su gestión. El Foro Agua Santa 2011 reconoce todas las iniciativas realizadas sobre gestión ambiental y del recurso hídrico en la cuenca, pero asume que se requieren aún más y mayores esfuerzos. Este evento se realizó con el fin de aportar a la construcción de una visión y una agenda compartida de la cuenca y de los espacios legítimos de participación ciudadana, que permitan el diálogo y faciliten el alcance de consensos, generando compromisos concretos que sirvan para enfrentar la situación de vulnerabilidad en la que se encuentra la cuenca. La presente memoria del FAS 2011 describe y resume la realización del evento que se llevó a cabo los días 22 y 23 de setiembre de 2011 en la ciudad de Huaraz, Ancash, Perú
Conference:
Foro Agua Santa 2011 in Huaraz, Peru, 22-23 September 2011
Imprint:
Quito : IUCN SUR ; Huaraz, PE : Instituto de Montaña , 2011
Notes:
Includes bibliographic references. Accompanied by a CD-ROM containing a PDF of the publication and the expositions presented at the forum.
Geographic keywords:
Broad subject:
Call number:
Record created: 2013/09/13
Record updated: 2021/08/03