Sign in
Complete Title:
Protocol for monitoring of impacts of climate change and climate variability in Bangladesh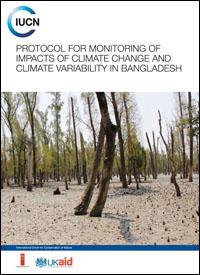 Abstract:
It is now unequivocally established that climate change is a reality, and the adversities of climatic transformations pose one of the greatest challenges facing humanity today. The publication on "Protocol for Monitoring of Impacts of Climate Change and Climate Variability in Bangladesh" is a modest yet pioneering attempt to proffer a systemic methodology to quantify and record the impacts of climate change across selected key sectors. The sectors that are considered for monitoring include hydro-meteorology, agriculture, livestock, both fresh and marine fisheries, forest flora and fauna, human health and livelihood and poverty.
Imprint:
Dhaka : IUCN Bangladesh, 2011
Notes:
Includes bibliographic references.
Keywords:
Geographic keywords:
Broad subject:
Call number:
Record updated: 2021/04/30