Sign in
Complete Title:
Our treasures at risk : World Heritage in times of climate change : contributions from youth messengers around the globe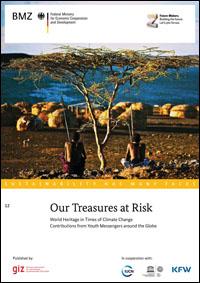 Abstract:
This publication is dedicated to the topic of natural World Heritage. It explores how these outstanding sites can function as the flagships of protected areas and thereby support biodiversity conservation as well as human well-being. Statements of young people from around the world who participated in the International Youth Forum Go4BioDiv, held in parallel to the CBD-COP 10 in Nagoya, Japan, in October 2010, illustrate the threats to the treasures of our planet.
Monographic Series:
Imprint:
Bonn : Deutsche Gesellschaft für Internationale Zusammenarbeit (GIZ), 2012
Notes:
Includes bibliographic references.
Call number:
Record created: 2013/09/13
Record updated: 2021/06/30