Sign in
Complete Title:
Forecasting the path towards a net positive impact on biodiversity for Rio Tinto QMM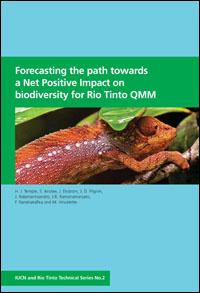 Organization(s):
Abstract:
This publication aims to provide the data, theory, and predictions for the potential long-term outcome of a biodiversity conservation programme at a mining site. The Rio Tinto ilmenite mine in southeastern Madagascar, run by QIT Madagascar Minerals (Rio Tinto QMM), has been chosen as a pilot site to test the tools designed to achieve and quantify net positive impact (NPI) on biodiversity. In the present analysis, biodiversity losses and gains were measured and forecast for the period 2004–2065 (i.e. from the date of the NPI commitment to the anticipated date of mine closure), in order to determine whether the current and proposed mitigation activities of Rio Tinto QMM are sufficient to achieve NPI by closure.
Monographic Series:
Imprint:
Gland : IUCN ; London : Rio Tinto, 2012
Notes:
Also available in separate French and Spanish language versions.
Geographic keywords:
Broad subject:
Call number:
Record updated: 2021/08/05