Conserving dryland biodiversity
Complete Title:
Conserving dryland biodiversity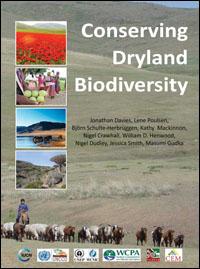 Abstract:
This publication is intended to raise awareness amongst all stakeholders and galvanise wider action to boost drylands conservation and development. The book is designed to inform and remind us of the beauty of dryland biodiversity and its intrinsic and instrumental value. It demonstrates the mutual dependency of dryland biological and cultural diversity. The book includes new analyses of drylands biodiversity and an overview of approaches that promote sustainable development as well as conservation goals. It strongly underlines the importance of indigenous knowledge and culture to dryland conservation, and demonstrates an unrivalled opportunity for sustainable growth and biodiversity protection.
Imprint:
Nairobi : IUCN Drylands Initiative ; Cambridge, UK : UNEP-WCMC ; Bonn : UNCCD, 2012
Notes:
Includes bibliographic references
Broad subject:
Call number:
Record updated: 2022/05/24