Sign in
Complete Title:
Safe flyways for the Siberian Crane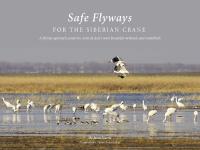 Abstract:
Cranes, a flagship species of waterbirds, have great cultural significance - especially the Siberian Crane. Yet, even after decades of conservation efforts, cranes remain threatened with 11 species at risk. To help reverse these trends, the UNEP/GEF Siberian Crane Wetland Project  was the first project to its kind to take a "flyway" approach to conservation, looking to secure the ecological integrity of a network of 16 critical wetlands in Eurasia. For close to a decade, project managers tracked annual migration routes from breeding to wintering sites across four countries: the Russian Federation, China, Iran and Kazakhstan. This report recognizes and celebrates the accomplishments of this landmark project. 
Imprint:
Baraboo, US : International Crane Foundation, 2009
Notes:
This is the terminal report of the UNEP/GEF Siberian Crane Wetland Project: Development of a Wetland Sit and Flyway Network for Conservation of the Siberian Crane and Other Migratory Waterbirds in Asia, GF/2712-03-4627.
A PDF version of this Terminal Report and the report annexes may be downloaded from the SCWP website at http://www.scwp.info/, or you may request a copy on CD by contacting the International Crane Federation at scwp@savingcranes.org or +1-608-356-9462.
Geographic keywords:
Scientific name:
Broad subject:
Call number:
Record created: 2014/07/28
Record updated: 2020/04/10