Sign in
Complete Title:
World directory of country environmental studies : an annotated bibliography of natural resources profiles, plans, and strategies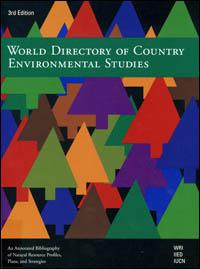 Abstract:
This global directory provides detailed bibliographic information with full abstracts on more than 420 reports for 180 countries. Information can be found by region, country or subject and complete order details are provided for each entry. The reports provide information on environmental conditions and trends, assessments of problems as well as the strategies and plans developed to address those problems. New for this edition, the directory covers all countries, South and North, including Eastern Europe and the Commonwealth of Independent States.
Imprint:
Washington, DC : WRI, 1996
Notes:
First ed. published in 1990 : Country environmental studies, IUCN not involved. Second ed. published in 1992 : Directory of country environmental studies. Available also on diskette, which includes the data of the 1990 and 1992 editions.
Keywords:
Geographic keywords:
Broad subject:
Call number:
Record updated: 2020/04/10