Indigenous and traditional peoples and protected areas
Complete Title:
Indigenous and traditional peoples and protected areas : principles, guidelines and case studies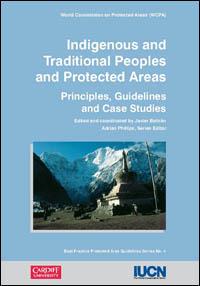 Abstract:
It is sometimes assumed that protected areas must be in conflict with the rights and traditions of indigenous and other traditional peoples on their domains. In reality, where indigenous peoples are interested in the conservation and traditional use of their lands, waters, territories and the natural and cultural resources that they contain, conflicts need not arise. Formal protected areas can provide a means to recognise and guarantee the efforts of many communities who have long protected certain areas, such as sacred groves and mountains. This publication provides a framework for developing partnerships between indigenous and other traditional peoples and protected area managers. It contains a number of case studies giving examples from different parts of the world on successful experiences on the application of these principles
Monographic Series:
Imprint:
Gland, Switzerland : IUCN, 2000
DOI:
https://doi.org/10.2305/IUCN.CH.2000.PAG.4.en
Notes:
Includes bibliographic references. Published in Spanish in 2001.
This title is out of date, may not reflect all information on contemporary best practice, but may still contain useful background information. 
Broad subject:
Call number:
Record updated: 2022/05/24