Sign in
Complete Title:
Medicinal plant conservation bibliography, volume 2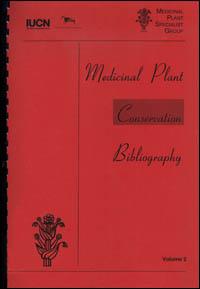 Abstract:
One of the major impediments to the advancement of medicinal plant conservation is the difficulty of accessing and analysing the relevant literature. Books and papers on medicinal plants count by the tens of thousands worlwide. The bulk of them, however, relate to pharmacology and medicinal properties or to classical ethnobotanical research, with very scarce data available on distribution, life history, biology, population status, levels of extraction and trade or resource management of taxa. This publication is designed to collect information from the various sources in order to begin setting plant conservation priorities. This volume covers the period 1997-2000.
Imprint:
Meckenheim : U. Schippmann, 2001
Notes:
First volume under call number IUCN-1997-019. Includes also literature before 1997.
Broad subject:
Call number:
Record created: 2013/09/12
Record updated: 2020/04/10