Caudal : elementos esenciales de caudales ambientales
Complete Title:
Caudal : elementos esenciales de caudales ambientales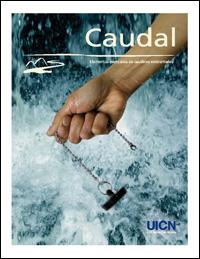 Organization(s):
Abstract:
An environmental flow is the water regime provided within a river, wetland or coastal zone to maintain ecosystems and their benefits where there are competing water uses and where flows are regulated. Pioneering efforts in South Africa, Australia and the United States have shown that the process to establish them poses great challenges. Second in the series of the Water & Nature Initiative, this guide draws extensively on the experiences in these countries to offer hands-on advice and practical guidance on technical issues for this emerging issue on the water resource agenda.
Monographic Series:
Imprint:
San José, CR : UICN ORMA, 2005
ISBN:
978-2-8317-0788-4
2-8317-0788-9
DOI:
https://doi.org/10.2305/IUCN.CH.2003.WANI.2.es
Notes:
Includes bibliographic references. Translation in Arabic, English, French, Portuguese, Khmer, Vietnamese, Burmese, Chinese, Lao and Thai also available. Language versions issued separately.
Broad subject:
Call number:
Record updated: 2021/04/30