Sign in
Complete Title:
Valores culturales y espirituales de los paisajes protegidos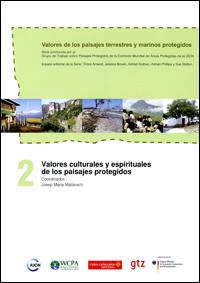 Abstract:
This is the second volume in the new series on the Value of Protected Landscapes and Seascapes. Each volume in the series will explore the different values that this category provides through a set of case studies preceded by a synthesis section discussing the lessons to be learnt. This volume breaks new ground by documenting, on a global scale, the non-material values that are to be found in protected landscapes. In selecting the case studies for this volume, the focus was on whether the landscape qualities and management objectives of a site are in keeping with those of Category V protected landscapes.
Monographic Series:
Imprint:
Gland : IUCN ; Eschborn, DE : GTZ ; Barcelona, ES : Obra Social Caixa Catalunya, 2008
Notes:
Includes bibliographic references.
Broad subject:
Call number:
Record updated: 2021/07/23