Sign in
Complete Title:
Pangani basin : a situation analysis (2nd edition)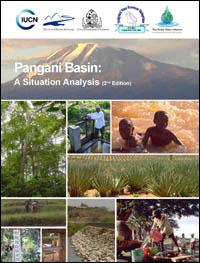 Abstract:
The objectives of the first edition of the Pangani situation analysis included identifying the resources that occupy the Pangani River Basin (PRB) and the processes and events that affect them, and identifying a series of broad action areas wherein interventions may feasibly be delivered. A second edition was needed to take into account the operation of the Water Resource Management Act in July 2009. This revised edition includes updated content primarily pertaining to the administrative structure, institutional arrangements, water law and policy, as well as the impact of the situation analysis in developing the Pangani River Basin Management Project, but the remainder of the situation analysis has not been changed.
Imprint:
Nairobi : IUCN ESARO, 2009
Notes:
Includes bibliographic references. Swahili version available separately. Also available as part of the Pangani River Basin Management Project Integrated Flow Assessment Technical Reports CD-Rom (IUCN-2010-094).
Geographic keywords:
Broad subject:
Call number:
Record updated: 2021/04/30