Sign in
Complete Title:
The state of wildlife trade in China : information on the trade in wild animals and plants in China in 2008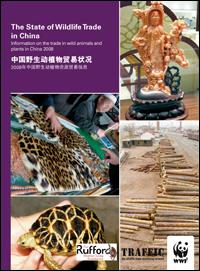 Organization(s):
Abstract:
This report is the third in an annual series on emerging trends in China's wildlife trade. that aim to highlight wildlife trade trends in threatened and at-risk wildlife, with an emphasis on the impact of China's trade on globally important biodiversity "hotspots". These hotspots have a crucial influence on the survival of endangered species, where conservation action to reduce wildlife trade threats can bring about the greatest benefit. While these hotspots might be problem areas at present, they offer great opportunities for conservation success if action is effective. Topics include the exploitation for trade of tigers and other big cats, the origins of timber imported from Africa and South-East Asia, illegal trade on the China-Myanmar border, the consumption of and trade in freshwater turtles in southern China, and TRAFFIC-led training efforts relating to wild medicinal plants and their use in Chinese traditional medicine. Other topics in this issue include the analysis of wildlife trade information from Hong Kong SAR, the coral trade in East Asia, cross-border enforcement efforts, the illegal online wildlife trade, China's new management regulations covering the coral and ivory trades, and a public awareness campaign aimed at sustainable wildlife consumption. The report found that over-exploitation of wildlife for trade has affected many species and is stimulating illegal trade across China's borders.This report aims to continue TRAFFIC's efforts to encourage sustainable wildlife trade trends in China, informing policymakers, enforcers and consumers. Together, these stakeholders can achieve the vision of a world in which usage of wild plants and animals is managed at sustainable levels while making a significant contribution to human needs.
Imprint:
Beijing : TRAFFIC East Asia-China Programme, WWF-China, 2010
Notes:
Includes bibliographic references. Publication contains full text in both English and Chinese.
Geographic keywords:
Broad subject:
Call number:
Record created: 2013/09/13
Record updated: 2021/06/29