Sign in
Complete Title:
The elephant and ivory trade in Thailand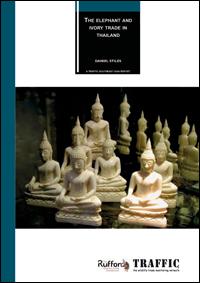 Organization(s):
Abstract:
Since 1997, TRAFFIC has been carrying out country surveys of trade in ivory and, in some cases, live elephants. In 2006/2007, TRAFFIC set out to compile existing and new information on the trade in elephants and elephant products in Thailand in consultation with relevant experts and stakeholders, including carvers, traders, retailers and government regulators. This study examines the legislative framework governing trade in elephants and elephant products, documenting the continuing availability of ivory products in key locations, and analyses the current situation in Thailand relative to the requirements under Resolution Conf. 10.10 (Rev. CoP14). The field work for this report was carried out in Bangkok, Chiang Mai and the Phayuha Kiri and Uthai Thani area south of Nakhon Sawan from 2 to 23 December 2006 and in Bangkok from 16 to 25 February 2007. A follow-up monitoring and assessment survey was carried out in the same areas from 14 January to 9 February 2008. TRAFFIC recorded the number and types of ivory items seen for sale and obtained a representative set of prices. The vendors were interviewed to ask them where they obtained the ivory, how well it was selling in order to assess turnover, who the main buyers were and if they knew where any ivory carving workshops were located. TRAFFIC then visited ivory craftsmen who could be located and interviewed them in an attempt to find out where they obtained their raw ivory, what prices they paid for different weight and type classes and where they sold their products. They were also asked if they exported their products anywhere or if they sold on the Internet.
Monographic Series:
Imprint:
Petaling Jaya, MY : TRAFFIC Southeast Asia, 2009
Physical Description:
viii, 64p. : ill., fig., maps
Notes:
Includes bibliographic references.
Geographic keywords:
Broad subject:
Call number:
Record updated: 2021/06/24