Sign in
Complete Title:
Hydroelectric power modelling study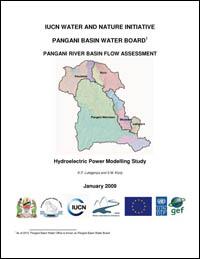 Abstract:
This publication has been prepared as part of the Flow Assessment Component of the Pangani River Basin Management Project. Its aim is to collect and synthesize present knowledge on the Pangani River system and its users, and to help promote an integrated approach to future water-allocation decisions. This report provides information on an indication of dam-levels at Nyumba ya Mungu for different flow scenarios to the Pangani River Basin Flow Assessment (PRBFA) biophysical models and input to the PRBFA macro-economic model on firm power generation and total energy production for different flow scenarios.
Imprint:
Moshi, TZ : PBWO ; Nairobi, KN : Eastern Africa Regional Programme, 2009
Notes:
Includes bibliographic references. Also available as part of the Pangani River Basin Management Project Integrated Flow Assessment Technical Reports CD-Rom (IUCN-2010-094).
Geographic keywords:
Broad subject:
Call number:
Record created: 2013/09/13
Record updated: 2021/06/24