Development of climate change scenarios
Complete Title:
Development of climate change scenarios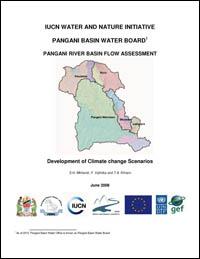 Abstract:
This report documents the modelled scenarios of local climate variability due to global climatic change, using the projected climate changes to modify the "no change", 76-year long, monthly sub-catchment rainfall sequences, and average monthly evaporation values that serve as input to the hydrological catchment model that has been configured and calibrated for the Pangani Basin.
Imprint:
Moshi, TZ : PBWO ; Nairobi, KN : Eastern Africa Regional Programme, 2008
Notes:
Includes bibliographic references. Also available as part of the Pangani River Basin Management Project Integrated Flow Assessment Technical Reports CD-Rom (IUCN-2010-094).
Keywords:
Geographic keywords:
Broad subject:
Call number:
Record created: 2013/09/13
Record updated: 2020/04/10