Commission of Inquiry on Peatlands
Complete Title:
Commission of Inquiry on Peatlands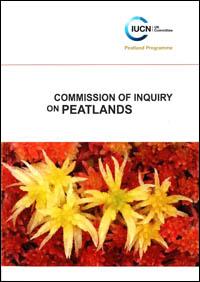 Abstract:
This IUCN UK Commission of Inquiry on Peatlands presents one of the most extensive assessments of peatlands undertaken in the UK to date. It identifies the state and value of peatland ecosystems and develops ways to safeguard and restore their natural capital. The assessment focuses on blanket bog and raised bog peatlands, because they represent over 95% of all UK peatland habitat and offer an opportunity to make early and substantial progress in delivering a combination of economic, social and biodiversity gains. It provides an authoritative assessment of the available evidence, based on peer-reviewed scientific consensus about the state of peatlands, the impacts of different activities on peatland ecosystems and the services they provide and the benefits of restoring and conserving them. The assessment explores mechanisms and processes for peatland conservation action, recognising the different social, economic and environmental drivers.
Imprint:
Edinburgh : IUCN UK Peatland Programme, 2011
Notes:
Includes bibliographic references.
Geographic keywords:
Broad subject:
Call number:
Record updated: 2021/06/30