Carbon conflicts and forest landscapes in Africa
Complete Title:
Carbon conflicts and forest landscapes in Africa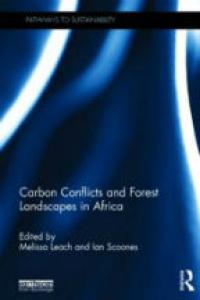 Abstract:
Amidst the pressing challenges of global climate change, the last decade has seen a wave of forest carbon projects across the world, designed to conserve and enhance forest carbon stocks in order to reduce carbon emissions from deforestation and offset emissions elsewhere. Exploring a set of new empirical case studies, Carbon Conflicts and Forest Landscapes in Africa examines how these projects are unfolding, their effects, and who is gaining and losing. Situating forest carbon approaches as part of more general moves to address environmental problems by attaching market values to nature and ecosystems, it examines how new projects interact with forest landscapes and their longer histories of intervention. The book's case studies cover a wide range of African ecologies, project types and national political-economic contexts. By examining these cases in a comparative framework and within an understanding of the national, regional and global institutional arrangements shaping forest carbon commoditisation, the book provides a rich and compelling account of how and why carbon conflicts are emerging, and how they might be avoided in future.
Monographic Series:
Notes:
Includes bibliographic references
Keywords:
Geographic keywords:
Call number:
Record updated: 2020/04/10