Environmental information in the Mediterranean
Complete Title:
Environmental information in the Mediterranean : a journalist's guide to key questions and institutions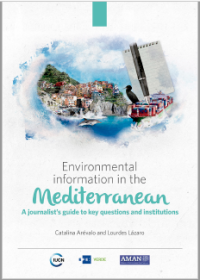 Abstract:
This guide is designed as a consultation tool for environmental journalists in the Mediterranean region. It provides an overview of the main environmental according to experts from various institutions, and the challenges that those threats pose at present and in the future. In addition, it deals with the specificities of the legal and governance framework in the region. The objective is that all this information will provide journalists with as detailed a picture as possible of the environmental situation in the Mediterranean to serve as the basis for future press stories to be explored and developed.
Imprint:
Gland : IUCN; Malaga : Agencia EFE, 2017
Keywords:
Geographic keywords:
Call number:
Record updated: 2021/04/30