Lemurs of Madagascar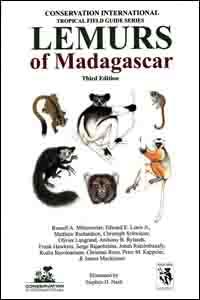 Organization(s):
Abstract:
The third edition of this title has been designed for easy use and to be an indispensable companion for the ecotourist, and especially for the primate-watcher. The 101 lemur species and subspecies currently recognized are illustrated and described in detail, and information is provided on the distribution, ecology, and behavior of each, accompanied by an array of photos, illustrations, and maps. The information presented in the pages will not only help the reader identify what species he or she has just seen, but can also be used in advance of a visit to Madagascar to plan field trips based on a "must see" list of lemurs.
Monographic Series:
Imprint:
Arlington, VA : Conservation International, 2010
Physical Description:
[xiv], 768p. : ill., maps
Notes:
Includes bibliographic references.
Keywords:
Geographic keywords:
Scientific name:
Broad subject:
Call number:
Record updated: 2020/04/10