CITES handbook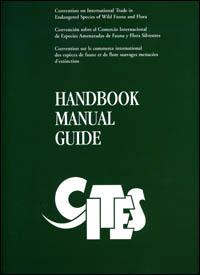 Abstract:
The CITES handbook has been compiled to provide for the Parties to CITES and others who are interested the most essential texts fo the implementation of the Convention in one single reference book. It comprises the text of the Convention, Appendices I and II, Appendix III, the standard CITES export/import permit - re-export certificate, the Resolutions and the Decisions of the Conference of the Parties to CITES in effect after the 12th meeting (Santiago, 2002)
Imprint:
Geneva : CITES Secretariat, 2003
Physical Description:
1 v. in various pagings, ring-bound
Notes:
Separate language editions. Only the English ed. 2003 is available in the library.
Broad subject:
Call number:
Record updated: 2020/04/10