Review of migratory Chondrichthyan fishes
Complete Title:
Review of migratory Chondrichthyan fishes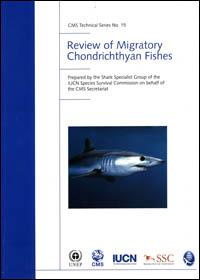 Abstract:
The Convention on Migratory Species (CMS) currently includes three species of chondrichthyan fishes on its Appendices, in recognition of their unfavourable conservation status and need for concerted international conservation measures. The primary purpose of this study was to prepare a database of migratory chondrichthyan fishes (the sharks, skates, rays and chimaeras) and to use it to identify potential species that would benefit from a CMS listing. The secondary purpose was to provide a pilot study that can be used as a starting point for developing the methodology and outputs of future taxonomic reviews under CMS. It is envisaged that the Scientific Council will also consider this as a more general discussion document and make recommendations for improvements before any other such reviews are undertaken.
Monographic Series:
Imprint:
Gland : IUCN ; Bonn, DE : Convention on Migratory Species, 2007
Notes:
Includes bibliographic references
Keywords:
Broad subject:
Call number:
Record created: 2013/09/12
Record updated: 2020/04/10