2010-2011 State of the wild : a global portrait
Complete Title:
2010-2011 State of the wild : a global portrait : with a special section : wildlife conservation in a time of war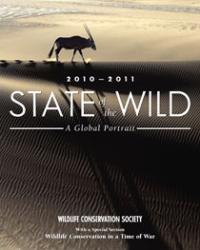 Organization(s):
Abstract:
State of the Wild is a biennial series that brings together international conservation experts and writers to discuss emerging issues in the conservation of wildlife and wild places. Each volume in the series combines evocative writings with a fascinating tour of conservation news highlights and vital statistics from around the world. One-third of each volume focuses on a topic of particular concern to conservationists. This 2010–2011 edition considers how destabilization and war affect wildlife and wild places. Only recently has the international community begun to appreciate the cost of conflict—simmering tension, war, and reconstruction—on the natural world. This special section examines the role that conservation plays in the context of human conflict considering issues such as, Can the work of saving wildlife and wild places help ameliorate tensions? Can conservation deepen political understanding? Can conservation help in post-conflict situations? The book's twenty essays are intermixed with poetry and beautiful photos that capture our connection to the wild.
Imprint:
Washington : Island Press, 2010
Notes:
Includes endnotes and index
Call number:
Record updated: 2020/04/10