Crocodiles : status survey and conservation action plan
Complete Title:
Crocodiles : status survey and conservation action plan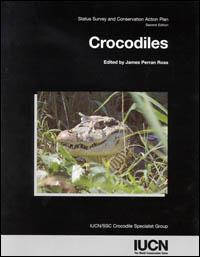 Abstract:
This reflects the ongoing activities of the Crocodile Specialist Group, providing the first application of the new 1994 IUCN Red List Categories to crocodilian status assessment. It describes priorities for action that address the most pressing problems in crocodilian conservation and explores topics such as the ecological and economical importance of crocodilians in their wetlands habitats; the spin-off benefits of their conservation on other species and local human communities; the application of sustainable use to crocodilian conservation; and describes national programmes that demonstrated the application and effectiveness of these methods. Aimed at government agencies, management authorities, funding agencies, researchers, non-governemental organisations and other conservation bodies, it provides an updated set of action recommendations for each of the 23 species of crocodilians
Monographic Series:
ISBN:
978-2-8317-0441-8
2-8317-0441-3
Notes:
Includes bibliographic references pp.74-88.
Keywords:
Scientific name:
Broad subject:
Call number:
Record updated: 2022/05/24