Sign in
Complete Title:
Wami basin : a situation analysis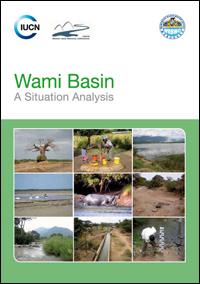 Abstract:
The Situation Analyses of the Wami and Ruvu (including coastal rivers) sub-basins were produced as separate analyses of the status, conditions and key issues affecting ecosystems in each basin using existing available information. The analyses provide information on natural resources (including water), socio-economic issues and the governance structure of water resource management. The purpose of each situation analysis is to provide an assessment that will be sufficiently adequate for priority themes or areas for actions to be developed in each basin according to the objectives of the National Water Sector Development Programme. This situation analysis will be used as background material for proposed project interventions. Data and information were derived from literature review and interviews carried out with key stakeholders in the Wami and Ruvu basins. The interviews were semi-structured and aimed to determine activities as well as challenges and opportunities in hot spot areas of the sub-basin.
Imprint:
Nairobi : IUCN ESARO, 2010
Notes:
Includes bibliographic references.
Broad subject:
Call number:
Record updated: 2021/04/30